The Golden Light Journey with WhatsApp Retreats and online platform 2023
Journey through 2023 with the golden light of the Source (golden Light of God). Find security, stability and live your highest version. Discover a new you, unfold your potential. Feel free, safe, happy and rich.

 This offer gives you access to all my online trainings and WhatsApp Retreats The golden Light Journey Abundance 2023, where you will receive insider talks and alignment rituals at least once a week. You also get the knowledge and tools you need at the moment from the large treasure chest of video trainings. Are you ready?
Your investment: Euro 350
Join now:
Read more and purchase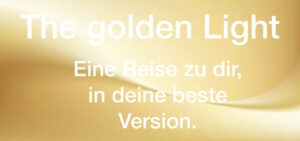 The Golden Light Journey 💛 Abundance 2023 mit WhatsApp Retreats  und online Plattform durch das 2023
Reise mit dem goldenen Licht der Quelle (Gotteslicht) durch das 2023. Finde Sicherheit, Stabilität und lebe deine höchste Version. Entdecke ein neues Du, entfalte dein Potential. Fühle dich frei, sicher, glücklich und reich. 
Komplettangebot mit WhatsApp Retreats und Insider Talk WhatsApp Gruppe und unbeschränktem Zugang zur Golden Light Journey online Plattform "Sei glücklich" mit all meinen online Trainings inkl. Spiritueller Beraterausbildung und Selbst-Coaching Retreats. Are you ready?
Deine Investition: Euro 350
Zahlbar in 5 Monatsraten oder einmalig
Sei dabei:
Mehr lesen und eintreten
Kundenstimme online Plattform
Liebe Lara, kurzes Feedback; tolles effektvolles Video. Die Regenbogenwand ist. Konnte gestern eine alte Geschichte loslassen und einen Austritt geben, es war so klar dass ich dies nicht mehr brauche. Plötzlich kommt Schwung in mein Leben. Heute durchgeschlafen und eine Stunde früher aufgewacht und in Ruhe das tolle Morgenritual inkl. meinen Körper integriert. So einfach und so wirkungsvoll. Über die Wunder die gerade geschehen kann ich nur noch schmunzeln.
Danke für alles liebe Lara, freue mich schon auf die nächsten Schritte. Alles Liebe und Gute.
Kundenstimme zum Zoom Call mit Meditation:
Berührungsängste was fremdes? Nein die Meditation auf diese Art ist für einem selber intensiver als ich dies bei dir vor Ort in Luzern erlebt habe, weil ich hier in meiner Welt/ Alltag bin.
Auch jetzt noch, ich muss nirgendwo hin, die Zeit gehört immer noch mir. Wau fühlt sich gut an.
Kundenstimme Schweiz